Mirroring means having what is on your device's screen display on another. In this case, the projector is the "other," and you can wirelessly project your device!
What you will need:
A classroom with the appropriate hardware, identifiable by a red Barco Room ID wall decal.
Connection to the KC Wireless Network with your King's email/password.
MirrorOp software installed on your personal/work device.
Download MirrorOp https://go.kings.edu/barco.
Mirroring Your Wireless Device in 4 Easy Steps
When you enter a room, make sure the projector is on HDMI for mirroring capabilities. Switch the source/input using the "HDMI" button on the projector remote.
On your device, launch the MirrorOp software and type the room's hostname into the "Input hostname or IP" box and click Connect. Hostname will be on the filler slide on the projector; you should enter it into the field at the bottom of the MirrorOp software.
When you connect, the projector will display a 4-digit code, which you can enter MirrorOp on your device.
After doing so, click the Play button in MirrorOp and your device's content will display on the projector.
Best practices:
When using your device, realize that it is mirroring all content, not select programs. Notifications, desktop backgrounds, URL fields will all display to your students. For the sake of your privacy, make sure the content you're mirroring is appropriate.
Favorite the rooms you teach in on MirrorOp to save yourself time while connecting.
Hide your screen during breaks with the Pause or Stop buttons in the MirrorOp software.
Do not forget to disconnect!
Click the show/hide button in MirrorOp (), then click the gear and choose Disconnect.
Note: Shutting down your machine or putting it in sleep mode will also disconnect your session!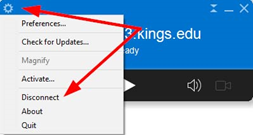 If you have any questions or need additional assistance, please submit a request or contact the Help Desk at 570-208-5900 ext. 4357.