MobilityPrint will give you the ability to print to available King's printers from your personal device(s).

To use this service, you must be connected to the King's network.
The supported platforms are: Windows, macOS, iOS, Android, Chrome OS.

If you navigate here, there will be a guide and video tutorial for each platform's setup.


Regardless of your unique setup, the printer queue you will print to is: Follow-Me-Printers.

To release your print job to an available campus printer, there will be a sticker located on each printer with a QR code and link.
Here is an example of the mobility print sticker below: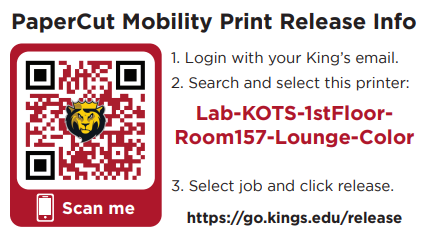 You can either scan the QR code or navigate to https://go.kings.edu/release.
Then, follow the steps listed on the sticker to login, search and select the name of the campus printer, and release your print job.
If you have any questions or need additional assistance, please contact 570-208-5900 ext. 4357 or submit a request.